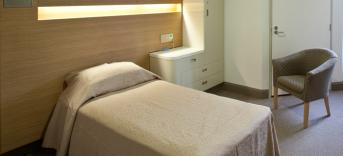 Delmont Private Hospital provides supervised clinical care and treatment in a safe comfortable environment. The hospital is a voluntary facility that admits from age 18 years and onward.
This service caters for patients with mental health and addiction issues in their overall care.
A typical stay at the hospital can vary from 1-3 weeks. It incorporates psychological and pharmacolgical treatments.  Patients attend a daily group therapy program and are provided with supportive counseling from  contact nurses each shift to assist in your overall care.
---
 WHEN URGENT CARE IS NEEDED.
Due to the Hospital's admission criteria, it is essential to have direct contact with the Intake Coordinators to discuss further details for admission to be arranged.                                                                               
Contact the Hospital Intake Co-ordinator on (03) 9805 7390.
---
INPATIENT THERAPY PROGRAM
The Inpatient Therapy Program (IPT) provides a comprehensive, balanced range of therapeutic group programs and activities.  The programs are conducted in a supportive group setting with regimens of creative art therapy, exercise programs and interactive discussions.  
The four specific components to the Inpatient Therapy Program consist of:
General Therapy - A range of groups that focus on developing insight into the underlying factors that may contribute and perpetuate mental health conditions. These programs also provide learning strategies to effectively cope with the distress of associated symptoms.
The Substance Use & Addiction Program (SUAP) - These groups in this program aim to enable the individual to reduce personal and social harm associated with their substance use and/or addictive behaviours.
Aged Mental Health - A varied program which includes psychiatric, medical and psychosocial assessments and treatments.  This also explores issues of aging in a positive supportive and helpful environment through physical exercise training and daily group programs.
Transition to Home  - This program supports recently discharged hospital patients returning to their home environment.  These patients come back to the hospital during the day to attend IPT and go back home at the end of the day. Together with the treatment team, patients are encouraged to value the daily structure and routine that will assist in their transition.  This program is designed to create a safe and seamless hospital to home transition for all patients.
In addition, the Hospital offer various other programs that complement and balance intellectual and emotional needs of each patient.  All the group programs draw on evidence based psychological interventions such as Cognitive Behavioural Therapy (CBT), Acceptance and Commitment Therapy (ACT), Dialectical Behavioural Therapy (DBT), as well as Mindfulness Based Therapies and Creative Arts Therapies.  
Our experienced Inpatient Therapy team manages the program and its contents.  The team includes psychologists, social workers, occupational therapists, nurse therapists, physiotherapists and creative arts therapists. 
Further to an inpatient stay, the treating doctor may refer to the Day Program or Community Outreach for continued support.