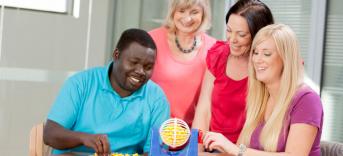 Delmont Day Program (DDP) is an important part of the integrated care provided by the wider Hospital and affiliated psychiatrists.
DDP works strongly from a recovery Model of Care offering group therapy with the emphasis on;
Developing hope
A secure base and sense of self
Supportive relationships
Building empowerment
Social Inclusion
Effective coping skills
Improved sense of well being and more meaningful life
DDP aims both to assist people in their transition from hospital to home to maintain wellness in their community.  Evening programs can support development of new skills and self-understanding.
Programs are facilitated by a qualified multidisciplinary team of mental health professionals including; Nurses, Clinical Psychologists, Creative Arts Therapists, Counsellors, Diversional Therapists, Social Workers, Occupational Therapists and Allied Health professionals.
The General Group Program timetable changes throughout the year.
Full day and half day attendance is required in accordance with Health Fund regulations.
Medical clearance forms are required for ALL physical activity based groups.
Health insurance funding is highly recommended.
Attending a Day Program
On Arrival and Departure:
Sign in and out at Day Program Reception
Claim forms to be signed on departure
Be aware of group start time
No late entry to group
Please inform staff if you need to leave early
Delmont Day Programs operate Monday through Friday (9.00 - 3.00pm), Tuesday & Thursday evenings (5.30-9.00pm)  and Saturday mornings (9.00-12.30pm)
---
Clinical programs we offer are:
Acceptance and Commitment Training draws on 'mindfulness' - a state of openness, focus and awareness - to enable authentic long lasting change.  Compassionate, practical and inspiring, ACT with Confidence can help you identify your passions, succeed at your challenges and create a like that is truly fulfilling. 
A willingness to practise the ACT skills is both required and most beneficial.
The Seniors Program aims to improve the quality of life of the aged population who have experienced mental health problems such as:
Adjustment Disorders
Anxiety
Bi-Polar Disorder
Depression
Grief/Loss
Schizophrenia
It also supports people who have been diagnosed with some form of Dementia.
These programs provide support and strategies by teaching anxiety management skills improve individual's quality of life. 
Cognitive Behavioural Therapies are for individuals experiencing social anxiety, anxiety, depression, obsessive compulsive disorder and bipolar relapse.
Creative Arts programs emphasise the important of having a relationship with the visual and sensory worlds. They encourage individuals to live in the present moment by utilising creative outlets to enter çreative mode'. 
Dialectical Behavior Therapy is very structured in its approach to treat for people with Borderline Personality Disorder or traits that are affecting  quality of life.  DBT skills covered include; Mindfulness skills, Distress tolerance, Interpersonal Effectiveness and Emotional regulation.  Commitment to practicing skills and attendance can bring about changes and hope in your ability to build a life worth living.
A prerequisite for this group is CONSISTENT ATTENDANCE to the General Day Program.
Lifestyle/Community Integration programs offer supportive environments that focus on enhancing and improving connectedness to everyday life. 
Programs use mindfulness-based approaches that lead to clinically significant improvements in psychological functioning to individuals with a wide range of conditions. 
In Mood Disorder & Depression programs the focus is on understanding and managing symptoms of mood disorders in a supportive environment. 
Psycho-Social Intervention programs promote psychological development and interaction with social environments, 
Stress Management Skill groups offer skills and strategies to help cope with stress effectively. 
Substance Use & Addiction programs promote the reduction in personal and social harm associated with substance use, abuse and addictive 
Adolescent Programs (aged 16-18 years old)
Creative Arts Therapy
Dual Diagnosis
Eating & Metabolic Disorders
Pain Management
Psychosocial Interventions
Substance Use and Addiction Program (SUAP)
Young Adults Program (YAP) (18-25 years old)
Weekend & Evening Groups
Evening and Saturday Day Programs are scheduled periodically throughout the year.  They include:
Acceptance and Commitment
Mindfulness Based Groups
2020 Module Time Frame:   
          #1 January - March
          #2 April  - June
          #3 July -September
          #4 October - December      
For more information, call (03) 9805 7370
Enquiries - Patient Registration Process
For any day program enquiries, please contact Delmont Day Program on (03) 9805 7370 or
Fax: (03) 9805 7395
FAX an Open Referral Letter to DDP.  
We have created a general referral letter format applicable to this service.  This 9 point checklist referral letter can be used for an open referral. 
By downloading this soft copy referral letter, it will save you time and ensure patients can be referred to the best suited day program for their needs.
General Open Referral Letter Word Document
General Open Referral Letter Rich Text Format
The referral will be processed by the following:
DDP Clinical Team will review referral's suitability
Patient's health fund check occurs to determine eligibility and cover
DDP Administration Officer will contact patient with outcome.
DDP Adminsitration Officer will contact the patient to schedule an assessment appointment.
Location:
Delmont Private Hospital
Lower Ground Entrance
300 Warrigal Road
Glen Iris 3146